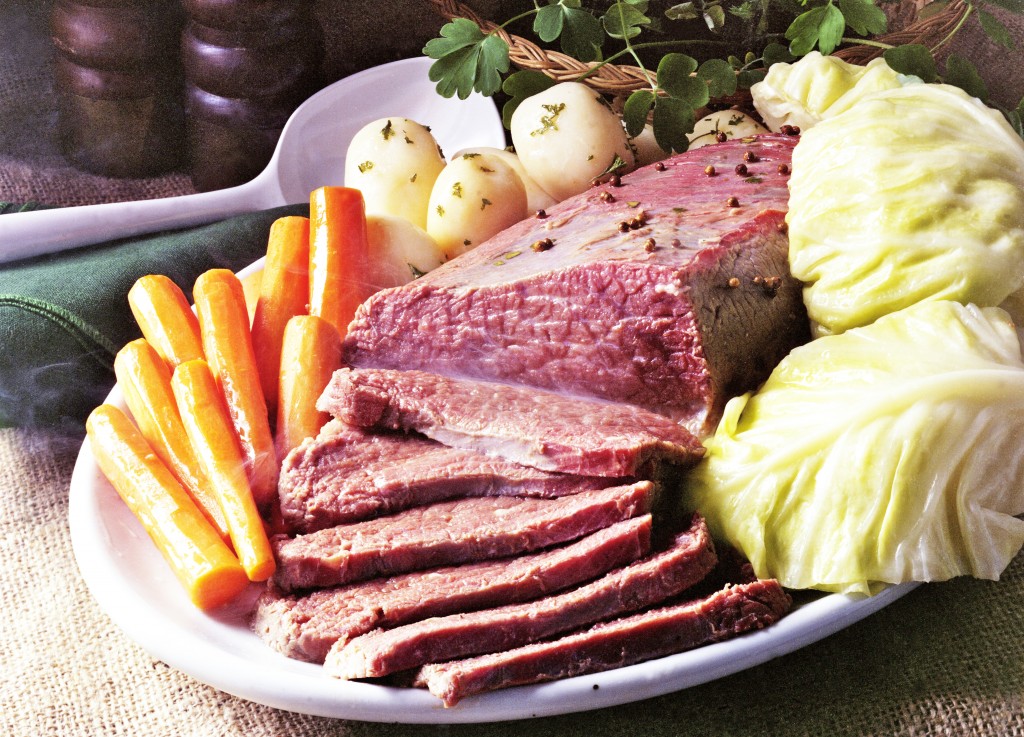 Until they make Superbowl Sunday an official holiday, the most gastro-masculine celebration of the year has to go to —  Saint Patrick's Day. I mean, c'mon, any day that revolves around red meat and beer is bound to attract testosterone. Which means that being able to make the staple meal of Saint Patrick's Day, corned beef and cabbage, is right up there in the masculine food hierarchy with grilling a great steak or deep frying a whole turkey.
History
Corned beef and cabbage became part of the Irish-American culture in the early nineteenth century when Jewish butchers offered very inexpensive cuts of salted beef to the public. Salted meats had been available in Europe for centuries but most of Ireland ate little of it, in either fresh or salted form, because it was not only extremely expensive but came from cows that were owned by the wealthy — so even if you did have the coin to purchase it, you probably didn't have permission to buy it. So what beef that wasn't used by the estate was salted and exported at a much higher profit than they could have received at selling it to the lowly peasants. So, when Irish immigrants came to the larger cities in the US, they saw inexpensive cuts of salted beef were available for purchase — possibly for the first times in their lives.
More corned beef in consumed in the United States on Saint Patrick's Day than any other day, which means that the price need to  be competitive on that day. This gives you an opportunity to purchase a few of these salted gems and freeze them for later on in the year.
Corned beef and cabbage is an example of what is called a boiled dinner. These are one pot meals that are cooked low and slow and include a piece of meat, and many root vegetables and spices. These are great because they are easy to make, inexpensive, hard to mess up and feed many people — which makes them ideal for camping trips, tailgating, deer camps or any time you want a big hearty meal for many.
And the best part is, they are really hard to mess up. A boiled dinner is quick to prep it, then you turn it on and wait.
HOW TO MAKE CORNED BEEF AND CABBAGE
Ingredients
1 medium onion, cut into wedges
6 red potatoes — or a bag of fingerling potatoes.
1 bag of carrots
1 bottle of dark beer
3 garlic cloves, minced
1 bay leaf
3 stalks of celery
I head of cabbage cut into wedges
1 cup of apple cider
1 corned beef brisket with spice packet (2-1/2 to 3 pounds), cut in half
1 small head cabbage, cut into wedges
Many people make this meal in a Crockpot and you definitely can. However, I find that the more modern the Crockpot the faster it cooks — I can't prove this yet, but it seems like the newer crockpots cook at a higher temperature and can dry out the meat. So a Dutch oven or any pot or pan you can cover, will work fine.
Place your onions, celery — cut long way like your carrots — and potatoes in the bottom of the pan. Place your brisket on top of the vegetables. Add the spice pack that came with the meet to the top and place the cabbage on top of the meat. Pour the vinegar and beer to the side to fill the pot.
And that's it. Cook for about 4 hours at 300 degrees.